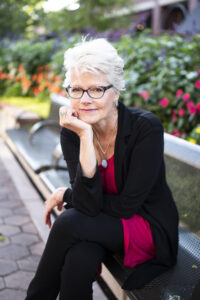 Shelley Kerr has been sculpting for 20 years producing monumental bronze figures as public art and smaller bronzes for personal collections. She also loves to weld in steel. Her monumental pieces are located in Fort Collins, Colorado with many smaller pieces in personal collections throughout the United States. You can check out Shelley's art work at her Kerr Art Works.
"The art I produce is about telling stories. Inspiration through the stories of others or of my own. Stories that transcend our experience."
More recent works reflect a new direction into a more symbolic, contemporary expression.
The work To Live still tells a story of Shelley's personal battle and victory over cancer since being diagnosed in 2014. The Nebra series reflects the power of a single dream and its manifestation in metal.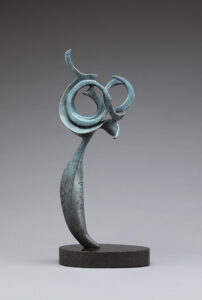 Shelley is generously donating a portion of proceeds from the sales of "To Live" (featured below) to support the mission of the Albert Institute.
You can check out Shelley art work at her website Kerr Art Works. Her email address is: [email protected].
Find out more about the creation of "To Live" on Kerr Art Works Blog.
"Then one day in my "play mode" the letters just magnetized into what would be my final creation. There is calm, quiet, and a gentle knowing. I had arrived."

"The last bit of puzzling had to do with getting the nested letters off the ground. A 3-paneled base emerged, giving me more opportunity to add meaning."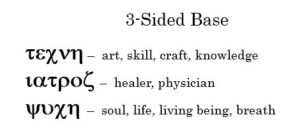 "A Special Note: the "soul, life, living being, breath" panel was particularly important for me. This panel represents the patient, because I feel very strongly that I am an active participant in my health care and my life (as is every patient). I signal this to my doctors–that I am "in" and we are in this together, a team."
The Trojan Horse was showcased at the 2019 Albert Symposium where Shelley was our KeyNote Speaker.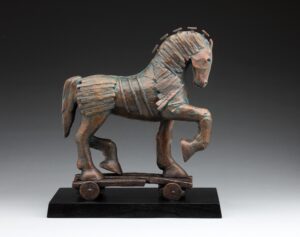 This trojan horse bronze, entitled "Breakthrough" is another celebration of the scientific achievements and successes in the fight again cancer. The Leo & Anne Albert Institute for Bladder Cancer Care and Research — WordPress
Enfortumab vedotin is an emerging treatment that has been nicknamed "Trojan horse". The mechanism for this new treatment is astonishing. It includes an antibody that attaches to a very specific site on the cancer cell surface. It also contains a linkage to one or two molecules of a chemo agent. Once attached to the cancer cell, the cell brings it inside (think Trojan horse getting through the gate) and then the linkage releases the chemo agent inside the cell causing cell death.
Upon hearing about this new treatment, I was inspired to sculpt a trojan horse.
Dedicated to the researchers, clinicians and     scientists that are changing the world…one cell at a time.